In 1929, Hungarian writer Frigyes Karminthy mentioned the idea of "six degrees of separation" in short story " Chains", which means that all people on earth can be connected with anyone within six degrees of acquaintances.


Today, WEPLUS proposes a feasible method that is applicable to every Chinese. Today, we are talking about facts and please pay attention to watch.

Key figure is this old man interviewed by CNN immediately after Trump won the election. Founder of Colony Capital ——Thomas Barrack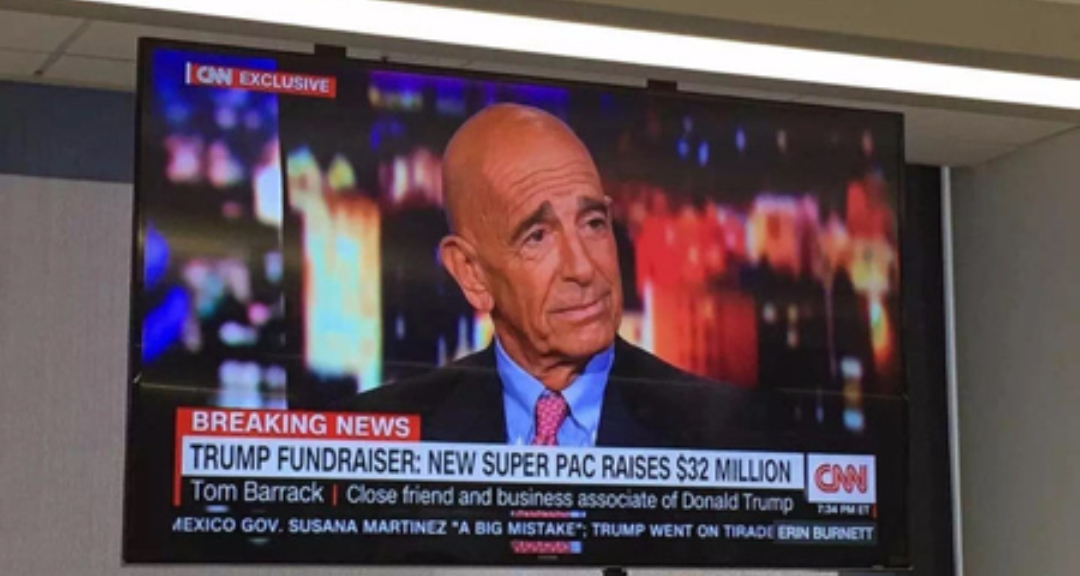 The Founder of Colony Capital ——Thomas Barrack


In the winter of 1988, Trump made a phone call to Barrack and wanted to a solo conversation with him.


At that time, Trump was the most discussed and most famous finance giant with a private jet, a yacht of 282 feet long. Besides, he is particularly fond of rosy marble. When Trump called Barrack, he was only 41 years old and the most famous developer in New York.

During Thomas Barrack's 40 years' career, this billionaire has been to many different places in the world——his experience in private funding real estate tops the industry. He was once engaged in diplomatic cooperation as an agent and played racket ball with Prince of Saudi Arabia. Besides, he served for administrations of US President and worked for the lawyer of US President. In addition, he has a film company and once went on vacation with actor Rob Lowe.
2015

Thomas Barrack set two minor goals.
In the US: publicly support and aid Trump for presidential election and initiate first fundraiser event for Trump, in full support of Trump.
In China: Invest WEPLUS , become an investor of WEPLUS Stone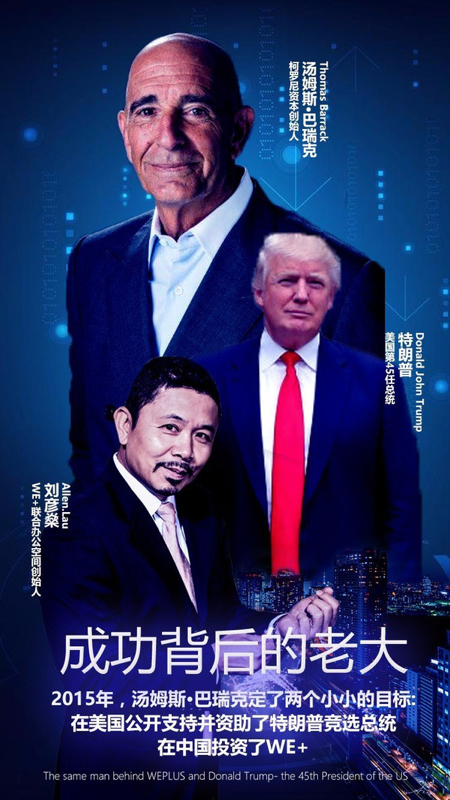 So we are back to the initial question: How to add Trump on Wechat?
Step 1: Settle in WEPLUS
Step 2: Add our boss Allen on Wechat
Step 3: Introduce your business card.
It will be all up to you if he will give you.

About WEPLUS
WEPLUS space is dedicated to building up warmest office space and bringing trust to everyone. Every team is entitled to WEPLUS flexible lease according to needs. You are welcome to reach us by 4006677299.

We emphasize sharing and innovation and connect work, life and social communication. Through warm and trustful space connection, everyone is open to communication with another. Thus work, life , interpersonal communication and business communication will be more harmonious.